Translation: Rich Brown
Photography: Melissa Miranda
The last time Emily hugged her dad, she was 7. He took his bags, said goodbye in the doorway of their home and returned to the US. She sat crying in the garden that later was converted into a modest clothing store administered by her mom, Leticia Bámaca.
Today, Emily is 10 and it feels like a long time since she saw her dad. As far back as she can remember, she's seen him every two or three years when he returns for a couple of weeks to spend time with her mom, with Emily, and with her two brothers, Christopher and Antony. After these brief stays come the goodbyes full of tears and sobs.
In the year 2000, Arturo Ramírez made the decision to cross the border to look for work opportunities that he never had in Guatemala. He managed to settle in Los Angeles and found work in an auto body paint shop as he waited for the US government to grant him residency. Before he got the documents, he got love.
Emily smiles tenderly, blushing, as her mom explains that she and Arturo fell in love long-distance, after he'd already migrated. He returned to Guatemala to see her. Over the course of his visits, their kids were born—and he received the residency papers he wanted so badly.
Emily's face is one of a child accustomed to hearing that her parents love each other, even though they live over 2,500 miles apart.
Emily and Leticia know they're lucky because, unlike many Guatemalan migrant families, they get to live with Arturo from time to time. He's also in touch at least three times a day. The distance hasn't caused them to grow apart. In school, Emily says, there are girls who've never seen their parents.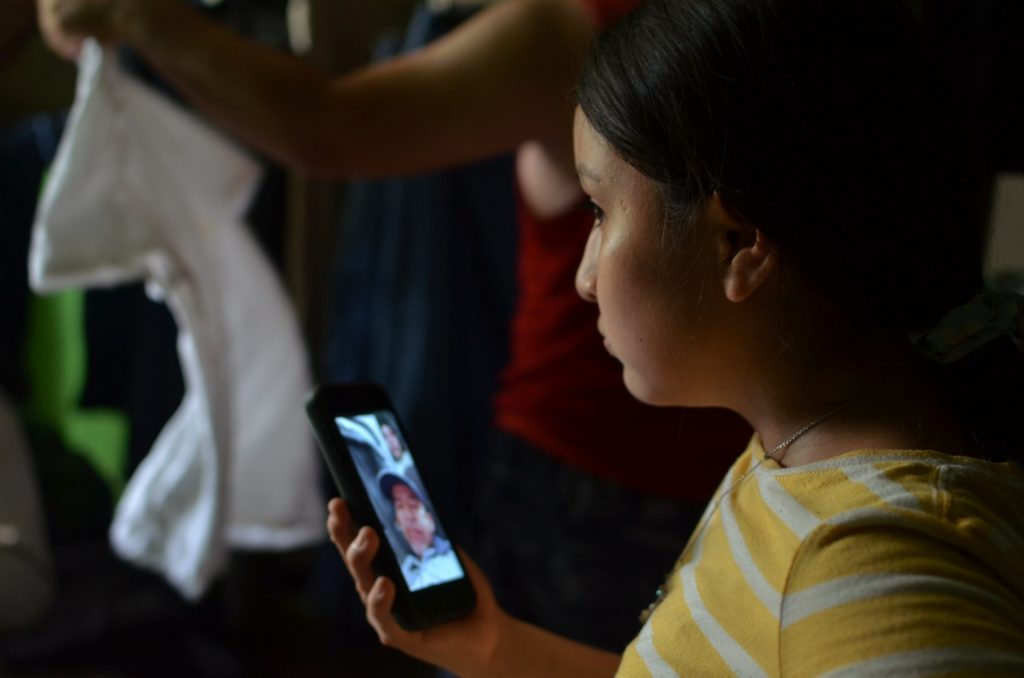 "On my birthday he calls me and asks me how I am. He sends me things so I can celebrate. Since my friends are close, they come to see me and I invite them here and my dad sends money so we can go out and celebrate," says Emily, who recently celebrated her birthday just as she wanted to: with cake, toys, decorations, surprises, and a piñata.
Through the screen of her mom's phone, Emily has had access to the country that opened its doors to her dad. Arturo has shown her the house he lives in with three of his nephews and the streets he travels daily to and from the auto body paint shop. To Emily, this strange city makes her slightly curious, but no more.
She says that perhaps one day she'll travel there, but not to stay. She likes her life in Malacatán, going out and meeting her friends who are also her neighbors; she likes the weather, her school, and her home.
Although she's only in fourth grade, Emily knows that she wants to stay in school far into the future. She's excited at the prospect of going to college and becoming a chef. She'd like to have her own business, just like the clothing store her mom opened on the patio of her home. Before, the family also ran a hot food stand out of their house.
Leticia's business has been a decent source of income, but not enough to dream that Arturo could return definitively to Guatemala. He doesn't want to come back until he knows that in his country he'll have a reliable source of income, enough to guarantee basic spending and to ensure that Emily and her brothers can not only stay in school, but also have access to healthcare and to small delights like Emily's birthday parties.
Many families in the state of San Marcos share this dilemma: They must choose either to be far from their loved ones to provide a decent life, or sacrifice certain comforts to reunite the family.
Emily wouldn't mind giving up certain privileges to be able to live with her dad. "I'd like to have my dad here and keep seeing my friends, going out and playing with them. But I prefer for my dad to be here," she responds. Leticia hopes for the same, but for now it seems a distant dream.
Meanwhile, technology and the Internet have become the fundamental tools for keeping love intact and maintaining intimacy—albeit virtual—between Arturo and his three children. Every morning, noon, and night, Emily talks with her dad as she awaits the next time they can share a few weeks together.
And the scene of goodbyes and tears and sobs will repeat itself again.